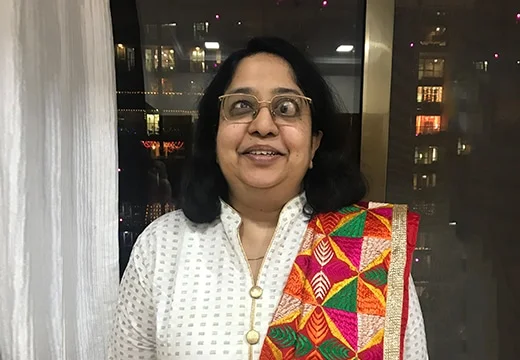 Born with Congenital Cataracts she later suffered from Multiple Eye Disorders, leading to Vision loss in one Eye at age ten and Complete loss of sight at the age of Twenty-four.
Unfazed she completed her Graduation in the Commerce Stream and Diploma in Business Management from the University of Mumbai. Besides losing her Eye-sight she learned courses in Computer Hardware too.
She is the Founder Director of "Voice Vision" an Institution which was established in 2000 to enable the visually Impaired through Technology and Facilitate Social Inclusion of Persons with Disabilities (PWDs). "No Visually Impaired person will stand the test of tide but will be empowered to swim across in the pool of self-confidence and achievements" is the Motto of Voice Vision.
She has trained more than 120 students with computers and corporate skills. Most of them have gone on to setup or resurrect their careers. For instance: HR manager at IBM, CA at Reliance, Physiotherapist etc.
She has organized around 50 soft skills trainings addressing 1750 participants, like first-aid, mobility, self-employment opportunities, unconventional career, sexuality & intimacy, financial planning & investments, social media networking etc.
She has created an online & offline platform facilitating persons with across disability to find their soulmate. She has successfully organised Seven across Disability Matrimonial get-together, involving around 450 Participants, enabling 15 marriage alliances, change in many mind-sets & broke some stereotype thoughts.
Also, she has initiated the Entrepreneurial Idea Award for persons with visual impairment, enabling them to start their own business and provide employment to other disabled or non-disabled.
She has been a trainer, Counsellor, Motivator & Guide to most of the Students & Participants of Events & Workshops.
Alongside she plays a key Role in her Family Business since 1995 and Presently She is the CEO of the firm, handling a Plethora of Responsibilities including Purchase & Sales, Human Resource, Customer Relationship Management, Administration and much more.
The Success she achieved with her Sheer grit and Determined Courage in the face of Adversity brought her many coveted Honours, few of them are listed below:
Her Success Story has received the much-Deserved Appreciation and Coverage in the print and electronic Media too. To conclude it, she made her Disability into a Powerful Ability & with Brave Wings Sushmeetha Flies & make others fly too.